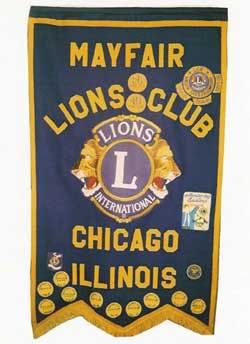 Ongoing Community Service Projects

Used Cell Phone Recycling
The Mayfair Lions are currently collecting old cell phones. These phones are turned into an organization that refurbishes them and donates them to women living in local shelters, giving the women a quick way to call for help in an emergency.

Used Printer Ink Cartridges for Recycling
The Mayfair Lions are currently collecting used printer ink cartridges for an environmental service project. The used cartridges are then recycled, saving valuable space in our landfills.

Contact Mayfair Lions Secretary Judy Toft at 773.763.0662 or e-mail her at jetoft@comcast.net to donate a phone or ink cartridge or for more information.

Previous Community Service Projects
Community Services projects have included: an area art fair, Mayfair Milestone Days, raincoats and belts for the Palmer School Safety Patrol, sent visually impaired residents to Leader Dog School for the Blind in Michigan, conducted preschool hearing and vision screenings for 3-5 year olds, sponsored parties for residents of local senior citizen home, Santa families through the Albany Park Community Center as well as donating toys, crafts, games and used clothing for the Back to Work Program of the Center, provided funds for special books for the Mayfair Branch Library, collected used eye glasses, purchased glasses for community residents, Peace Poster Contest. An annual "Salute to American Heros Dinner honoring a policeman, fireman, and veteran from the Mayfair Community; support of National Police Night Out.

Financial support for the Mayfair Lutheran Church Food Pantry and "Helping Hand" Committee of Church; Hadley School for the Blind; Educational Olympics for Palmer School, CRISS Radio, Dialogue, VOSCH, Lions of Illinois Foundation, LCIF, Camp Lions, Recording for the Blind & Dyslexic.

Previous Fundraising Activities
Progressive Dinners, Broom and Flag Sales, Seed Sales, Hayrides, Night in Monaco, Mystery Trips, Pizza Parties, Theater Parties, Raffles, Boys Town Choir, Carson Community Sale Days, "Trash and Treasure Sales" and Special Used Phone Fundraiser.