Boone Area Lions
Boone Lions are in their 84th year of serving the community. Boone Lions provide vision and hearing screenings, support those in need of eye exams and vision correction, and collect and distribute eye glasses and hearing aids for distribution to those in need world wide.
Visit us On Facebook
Lion Willie Robert "Bob" Cole, 92, Todd, N.C., passed away Thursday, February 6, 2020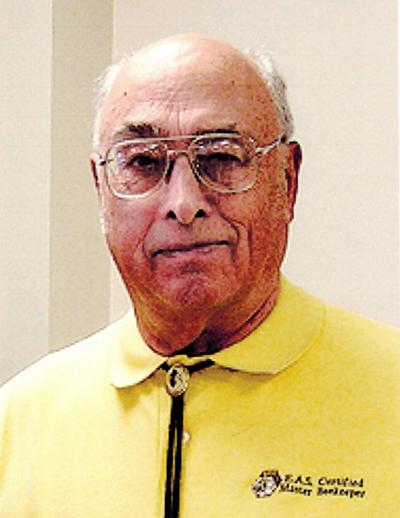 Bob was born April 15, 1927 in Rockingham, N.C., to Willie Kern Cole and Annie Hasty Cole. He is survived by his wife of 43 years, Susan Stockbridge Cole. He also had 3 sons, 7 grandchildren and 2 great grandchildren.
A Lion for over 50 year Bob served in a number of club and district positions including District Governor in 1997-98.Bob was a veteran of World War II and Korea as a member of the 82nd Airborne where he served as a Master Sergeant. Bob attended the University of North Carolina. He was a Master Beekeeper, certified by the Eastern Apicultural Society and an award winning beekeeper. He was also a recipient of the Order of the Long Leaf Pine. For more on his long and many experiences and contributions to Bees, The Lions and the USA, please visit the Watauga Democrat https://www.wataugademocrat.com/obituaries/willie-robert-cole/article_58a8be2e-af33-55e4-abfa-4fe50b951c93.html
The Lions Mobile Vision and Hearing Screening unit will be at the Boone Wal-Mart on Saturday, September 5th from 10:00 a.m. to 4:00 p.m. to provide free vision and hearing screening. No appoitment is necesary.
The Boone Lions sponsor a local Red Cross Blood Drive, the Cub Scouts, a youth baseball

team,
and (through financial support of local Boone businesses, raise the American Flag along Boone streets on national holidays. In 2020 Flags will be raised on May 16, May 25, June 15,
July 4, September 7, October 12 and Nov. 11.
Boone Lions Hoist the Flags in Boone Once Again in 2020
On Saturday May 16, 2020 the lions will once again begin a year of posting the American Flag all around Boone, NC . This is just a few of the 115 flags that Boone Lions will post on the 7 major National Holidays.
Here's to Betsy and all of our Flag Raisers on the July 4th during Covid 19 times
COVID19 NOTE: UNTIL FURTHER NOTICE The Lions will NOT meet at Noon the 1st and 3rd Tuesdays at the Sagebrush Steakhouse for lunch, fellowship and a brief business meeting. Once meetings are resumed, all are welcome to come, be our guest and see what Lions are all about and hopefully join us and become a fellow Lion.
Be sure to see details on our Calendar Page for all the upcoming events, lunch meetings and ways to be involved with the Lions Club service to the Vision Impaired and others in our local communities.
Also, please see the page honoring our Boone business supporters.
Click here

for a new source for health care and vision help at low to no cost: Community Care Clinic - 141 Health Center Drive, Suite B, Boone, NC 28607
For information about senior adult services and programs contact the following:
glasses.com - Interactive online prescription eye glass & frame fitting
See "Contact Us" page for procedure to request Vision/Hearing Help

Our Slogan: Liberty. Intelligence. Our Nations's Safety
---
Lions Clubs International was founded by Melvin Jones in Chicago, Illinois in 1917. At an early international convention, Helen Keller asked the Lions to be her Knights for the Blind, and since that time, the Lions have concentrated their efforts to serve the visually impaired, hearing impaired, young people and others in need. Today there are 45,000 clubs in 205 countries and geographic areas.
Lions Clubs International is the world's largest service club organization with more than 1.4 million members in approximately 46,000 clubs in more than 200 countries and geographical areas around the world.