FRESNO HOST LIONS CLUB DONATIONS LIST
The motto of Lions Clubs is: WE SERVE and the Fresno Host Lions Club is proud to have assisted the following organizations as a part of our on-going Community Service Projects:
Creek Fire & SQF Fire Recovery Efforts
Eye Exams & Glasses for Local Needy Children
Valley Children's Hospital
Poverello House
Fresno Rescue Mission
LCIF – Lions Clubs International Foundation
Valley Center for the Blind
Lions Wilderness Camp for the Blind
City of Hope Cancer Research
Sunnyside & Clovis East High School Choral Groups
Lions Canine Companions
Ear of the Lion Program
Valley Teen Ranch
Hope for the Holidays
Ronald McDonald House @ Valley Children's Hospital
Lions Student Speaker Contest
Lions Eye Foundation
Northern California Fire Victims Disaster Relief Fund
Terry's House/Community Hospital
Helen Keller Foundation
Habitat for Humanity
Fresno Veterans Hospital
Lions Eye Bank
Bearskin Meadows Diabetic Youth Camp
Toys for Tots
Coats for Kids
Clovis West High School LEO Club
SERVING OUR COMMUNITY SINCE 1920 !

****************************************************************
BEARSKIN MEADOWS DIABETES CAMP FOR KIDS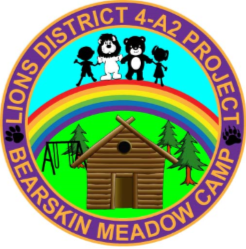 Bearskin Meadow Camp is one of the oldest and largest resident camps for children, teens and families affected by Type I Diabetes. The camp is located in the Sequoia National Forest, 65 miles east of Fresno, California at an elevation of 5,800 feet. Each summer the camp welcomes approximately 800 participants. Bearskin Meadow gives campers and parents a uniquely supportive community of peers and adults who truly understand the day-to-day challenges of living with diabetes. District 4-A2 has a committee in place to direct funds and Lions activities to support Bearskin Meadows. The district requested and received an LCI grant in 2015 to assist in improving the grounds, cabins and community spaces. There is always a need for donations and volunteers.
Work Weekend Open Camp:
Memorial Day Friday – Sunday
For more information call
Chair PDG Judy Woolley
C: 559-916-2521 E: judyarribere@aol.com
+++++++++++++++++++++++++++++++++++++++++++++++++++++++++++++++++
The Need for Eyeglasses
–153 Million Reasons Lions Recycle for Sight --
According to The World Health Organization, 153 million people have uncorrected refractive errors (near-sightedness, far-sightedness or astigmatism). Most of these vision impairments are quickly diagnosed and easy to treat with corrective lenses.
Still, millions of people in developing nations are pushed deeper into poverty simply because they don't have glasses. They can't learn, because reading is difficult. They can't work to the best of their ability, because they can't see clearly.
It costs Lions less than US$0.08 to provide a pair of recycled eyeglasses and change someone's life.
For children, clear vision means a better education, healthier development and a better quality of life. For adults, it means greater employment opportunity and economic strength. For seniors it means less dependence on others.
Lions clubs collect millions of eyeglasses each year to address the need for glasses, making eyeglass recycling one of our most popular activities.
----- Changing Lives, One Pair at a Time -----
In just about any dresser drawer, one can find a pair of eyeglasses that are no longer being used. That same pair of eyeglasses can change another person's life.
--- Eyeglass Recycling – How You Can Help ---
If you have used eyeglasses you no longer need, you can donate them now. Lions accept prescription and reading glasses, sunglasses and plastic and metal frames. Children's glasses are especially needed. FRESNO HOST LIONS CLUB– 299-9210
---
Car Wash Ticket Sales for
Red Carpet Carwash Discount Tickets
has been our major fund raiser for over 40 years and has
resulted in over $250,000 raised and donated to both local
and international projects supported by our Club
2021 Car Wash Tickets are available NOW !
Please call 559-285-1426 for details