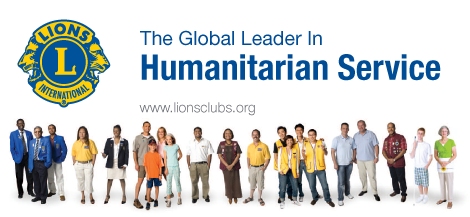 Crediton and District Lions Club is now registered as a Charitable Incorporated organisation 'CIO' registration number 1185778.
Lions Clubs International (LCI) is rich in heritage and pride. We are proud that our organization is close to a century old. And that it has a distinguished history of doing good works for the world.
Crediton Lions Club was formed in 1978 and is now in its 43rd year.
Throughout that time we have been involved in numerous activities from Raffling a car, running the Crediton Carnival for 8 years, community fayres and now we are producing the CREDITON Talking News through a special project set up for that purpose.
We are a relatively small club but over the years have raised well over £120,000 for a myriad of causes including First responder defibrillators, Guide Dogs, resuscitation dummies, supported local charities, hospices, Devon Air Ambulance, Community Transport, Diabetic screening and many more causes and activities.
About Lions
Lions are ordinary people who do extraordinary things to help others and support good causes throughout the British Isles. Globally we have more volunteers in more places than any other service club organisation, and love to step forward to volunteer, help other and make things happen.
Wherever you live, work or travel across the British Isles, you are likely to come across members of Lions clubs and the projects we support.
So that we can continue to grow our support for the community and beyond, we are always on the lookout for volunteers to come and join us and help us remain the premier service organisation throughout the world.
We'd love you to join us.s are ordinary people who do extraordinary things to
Contact us for more information of how to join us on;- 07842419142
44th Charter Anniversary of Lions Club of Crediton and District
Beryl, Sheila, Hazel, Di and John serving Tea and Coffee at the Cream Tea
See our Talking News tab for more photos;-....
Lions Clubs International is the world's largest service club organization with more than 1.4 million members in approximately 46,000 clubs in more than 200 countries and geographical areas around the world.