Club Projects
Scholarships
Annual Bowling Fundraiser- A fun day of 9 pin that raises scholarship funds for local high school student scholarships
The Blanco Lions Club also raises money for scholarships by selling raffle tickets for the game ball at each Blanco High School home football game. A team picture is mounted on the ball and all the players sign the ball. This year the club gave four $500 scholarships to graduating seniors.
Stuff the Bus Collecting school supplies for local students
A school district yellow bus is parked on the town square and and donated supplies are loaded in. Funds collected are used to supplement the donated supplies. In 2022, the club donated over $2000 worth of backpacks, notebooks, binders and supplies to local students.
Christmas Parade Cocoa
Lions members collect Christmas mugs throughout the year. At the annual Blanco Christmas Parade, the Lions and Leos provide hot cocoa to the parade attendees. Come pick out your mug, fill it up, add the toppings, and enjoy the parade.
Wreaths Across America
The Blanco Lions and Leos support the Wreaths Across America project honoring and rembering veterans.
Remember our fallen U.S. veterans
Honor those who serve
Teach your children the value of freedom
Liberty Day
Presentations are made to Middle School and High School students about the US Constitution. Presentation are schedules around September 17th, the day the Constitution was originally signed in 1787. Students review the three branches of US Government, Legislative, Executive, and Judicial. They also study the Bill of Rights and the protections granted by the first amendment: Religion, Speech, Assembly, Press, Redress for Grievances, Each student receives their own Pocket Constitution to read and study.
Aluminum Cans- The primary fund raising project is the collecting of aluminum cans. Local merchants allow the club to place collection bins on their parking lots. Weekly the bins are emptied and the cans taken to a lot where the trash is removed and the cans are blown into a large trailer which holds about 1000 pounds of cans. Quarterly the trailer is hauled to a recycling yard in San Antonio. This activity generates about $2500 a year which is donated to local charities.
Internationally
Lions meet the needs of local communities and the world every day because they share a core belief - to serve their community.
Lions have a dynamic history. Founded in 1917, we are best known for fighting blindness, but we also volunteer for many different kinds of community projects - including caring for the environment, feeding the hungry and aiding seniors an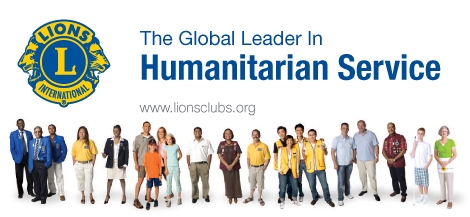 d the disabled.
Lions give sight. By conducting vision screenings, equipping hospitals and clinics, distributing medicine and raising awareness of eye disease, Lions work toward their mission of providing vision for all. We have extended our commitment to sight conservation through countless local efforts and through our international SightFirst Program, which works to eradicate blindness.
Lions serve youth. Our community projects often support local children and schools through scholarships, recreation and mentoring. Internationally, we offer many programs, including the Peace Poster Contest, Youth Camps and Exchange and Lions Quest.

Our Leo Program provides the youth of the world with an opportunity for personal development through volunteering. There are approximately 144,000 Leos and 5,700 Leo clubs in more than 140 countries worldwide.
Lions award grants. Since 1968, the Lions Clubs International Foundation (LCIF) has awarded more than US$700 million in grants to support Lions humanitarian projects around the world. LCIF was also ranked the number one nongovernmental organization in a 2007 study by The Financial Times.
Lions help during disasters. Together, our Foundation and Lions are helping communities following natural disasters by providing for immediate needs such as food, water, clothing and medical supplies – and aiding in long-term reconstruction.
Lions are active. Our motto is "We Serve." Lions are part of a global service network, doing whatever is necessary to help our local communities.