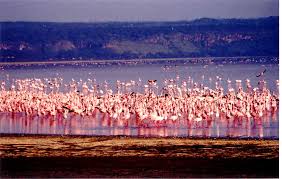 The Club carried out a first of its kind Assessment Camp for Children with Learning Disabilities. More details in the Club Activities Page.
Nakuru, the fourth largest town in Kenya. This agriculturally oriented area is home to Lake Nakuru, one of the Rift Valley soda lakes. Lake Nakuru is best known for its thousands, sometimes millions of flamingoes nesting along the shores. The surface of the shallow lake is often hardly recognizable due to the continually shifting mass of pink. The number of flamingoes on the lake varies with water and food conditions and the best vantage point is from Baboon Rocks. Also of interest, an area of 188 km around the lake fenced off as a sanctuary to protect Rothchild giraffe and black rhinos.

Other sites of interest around Nakuru include Menengai Crater, an extinct volcano 2,490 m (8,167 feet) high. The views of the crater itself, as well as the surrounding countryside, are spectacular.
Hyrax Hill Prehistoric Site, discovered by the Leakeys in 1926, is considered a major Neolithic and Iron Age site. The adjoining museum features finds from various nearby excavations.

The second largest surviving volcanic crater in the world, the Menengai Crater, is 2,242 meters above sea level at its highest point. The crater plunges 483m down from the rim and the summit is accessible by foot or vehicle 8km from the main road. The mountain is also surrounded by a nature reserve.

Nakuru the home town of the Lions Club of Nakuru. The Club was officially Chartered on 2 October 1964. The Charter President was Lion Chhotalal D. Pattni who is now residing in the UK.
Our Club has produced 2 District Governors, namely Late Lion Dr Vinubhai Patel and Lion Amu Shah.
The Club was a pioneer Club in District 411 in carrying out cataract operations and corneal transplants.
Lions Club of Nakuru is wellknown for its Long Range Project of the Lions Schools namely Lions Nursery School, Lions Primary School and Melvin Jones Lions Academy which was recognised as one of the Top Three Educational Projects in the World. We offer the best education at affordable fees. The Schools are recognised countrywide for its educational and extra curricular activities. The Schools offer both the British Curriculum and the 8-4-4- system of education.
Lions Primary School Nakuru has been standing 1st overall for the 7th year running the Kenya National Schools & Colleges Drama Festival. Total population of the three schools is about 2000 children.
The Club gives out bursaries every year to various needy and deserving children.
Currently we are embarking on a project of building a facility for children with special educational needs.
Lions Clubs International is the world's largest service club organization with more than 1.4 million members in approximately 46,000 clubs in more than 200 countries and geographical areas around the world.