Killeen Evening Lions Club
"We Serve!"
Who are the Lions? Men and Women dedicated to serving those in need!
As Lions, we hold ourselves to the absolute highest standards in everything we do! Our members and clubs are dedicated to serving others, and it shows! We champion kindness in our communities and actively work to improve the lives of all people! The Killeen Evening Lion's Club has been servicing our communities and abroad for over 56 years!
The Killeen Evening Lion's Club (KELC) has great history, and we are eager to share it with the world! From our humble beginnings to our constant commitment of providing service from the heart! Please go to Our History Page to get more information.
MD2X-3 District Governor Visit
We had the honor of our District Governor, Angela Cases, visit our club and she delivered a great overview of the district goals for the year. She shared her vision of honoring our past, but moving forward! We look forward to seeing our district grow under her leadership!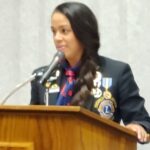 Lions Clubs International is the world's largest service club organization with more than 1.4 million members in approximately 46,000 clubs in more than 200 countries and geographical areas around the world.