Welcome
The Point Marion Area Lions Club was chartered on August 3, 1976. Our club is comprised of 11 members and is located in Point Marion, Pennsylvania. We thank you for visiting our website and please feel free to check back periodically for updates on news and other events,
The Point Marion Area Lions Club would like to thank everyone for their support and/or donations.
We are currently looking for motivated men and women in and around the Point Marion Area, 18 years or older, to be a part of our Lions Club. If interested at all, or you are looking for some more information, please do not hesitate to email us at pm_lionsclub@yahoo.com
For Sale: Sound equipment including mixer board, 2 power amplifiers, 2 column speakers, cd player with 5 cd changer, and more - take all for $500! Email if interested.
For Sale: Tons of new and used rollar skates. Email us if interested.
We have designed a "Point Marion, Est. 1842" t-shirt that can be customized and bought below. For each shirt sold, our club will receive $2: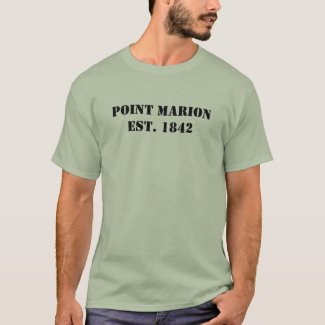 Point Marion, Est. 1842
by
sigailix
Make
personalized tshirts
at zazzle.com
Site Last Updated: 5/19/2010
Lions Clubs International is the world's largest service club organization with more than 1.4 million members in approximately 46,000 clubs in more than 200 countries and geographical areas around the world.