---
---
WE SERVE!
The Fayetteville Community Lions Club is a brand new Lions Club. We have just been chartered by Lions Clubs International and held a chartering celebration on May 7, 2015. If you are interested in helping people in the Fayetteville, NC, area and would like to learn more about us please come to our next meeting on the second Thursday of each month at 7:00 PM, in the Medical Arts Building, 101 Robeson St. It will be a great way to meet us and to learn how Lions help other. For more information about this new club or to attend our next meeting, just email us at: FayettevilleCommunityLionsClub@gmail.com
Welcome to our website! Please take a minute to look around and learn more about how we help people...locally and worldwide.
If you have questions or would like to join in making a difference, please send an email to: FayettevilleCommunityLionsClub@gmail.com or call our President, Mayra McCloud 931-252-1047.
---
NEXT CLUB MEETING
Our next meeting will be September 8, 2016 at 6:00 PM. We will meet at Pharoah's Village, located at 2425 Hope Mills Road, Fayetteville, NC 28304. For directions, click here.
We will also have a representative from the Fayetteville Police Department's Fraud Division speaking about Identity Theft.
The meeting is open to anyone interested in learning more about Lions Clubs and this opportunity to help the Fayetteville, NC, community. Talk to friends, family and neighbors about joing us. Our goal this year is to bring as many new members as we possible can.
---
FAYETTEVILLE COMMUNITY LIONS CLUB CHARTER NIGHT
On May 7 at the Golden Corral in Fayetteville, Past International President Sid Scruggs installed 16 members of the Fayetteville Community Lions Club. Lion Sid's remarks were right on target and focused on why we are Lions. Mayor Pro Tem Kady Ann Davy welcomed the club to Fayetteville. Presently there are 24 members in the club. The club was sponsored by the Western Harnett Lions Club. Lions from 9 area clubs were in attendance to welcome the new club. Gifts presented were, a US flag from Massey Hill, a club banner from Western Harnett, a NC flag from Aberdeen, the club charter from District 31 F. Cash donations for their Administrative account were received from Vass Club, Carthage Club, Angier Club, Faison Club, James Kiser, and Vince Schimmoller. The first picture shows District Governor Lynn McCaskill presenting the Charter to President Mayra McCloud. The second picture shows Mayor Pro Tem Kady Ann Davy welcoming the Fayetteville Community Lions club to Fayetteville. The third picture shows Past International President Sid Scruggs presenting a small gift to Mayor Pro Tem Davy.
The club meets the second Thursday of the month at 7 pm at the Medial Arts Building at 101 Robeson Street in Fayetteville.
---
ABOUT LIONS CLUBS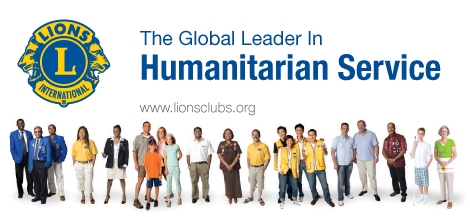 Lions meet the needs of local communities and the world every day because they share a core belief - to serve their community.
Lions Clubs International is the world's largest service club organization. We have 1.35 million members in more than 45,000 clubsin more than 206 countries and geographic areas.
Lions have a dynamic history. Founded in 1917, we are best known for fighting blindness, but we also volunteer for many different kinds of community projects - including caring for the environment, feeding the hungry and aiding seniors and the disabled.
Lions give sight. By conducting vision screenings, equipping hospitals and clinics, distributing medicine and raising awareness of eye disease, Lions work toward their mission of providing vision for all. We have extended our commitment to sight conservation through countless local efforts and through our international SightFirst Program, which works to eradicate blindness.
Lions serve youth. Our community projects often support local children and schools through scholarships, recreation and mentoring. Internationally, we offer many programs, including the Peace Poster Contest, Youth Camps and Exchange and Lions Quest.

Our Leo Program provides the youth of the world with an opportunity for personal development through volunteering. There are approximately 144,000 Leos and 5,700 Leo clubs in more than 140 countries worldwide.
Lions award grants. Since 1968, the Lions Clubs International Foundation (LCIF) has awarded more than US$700 million in grants to support Lions humanitarian projects around the world. LCIF was also ranked the number one nongovernmental organization in a 2007 study byThe Financial Times.
Lions help during disasters. Together, our Foundation and Lions are helping communities following natural disasters by providing for immediate needs such as food, water, clothing and medical supplies – and aiding in long-term reconstruction.
Lions are active. Our motto is "We Serve." Lions are part of a global service network, doing whatever is necessary to help our local communities.
For more about Lions Clubs, go to www.lionsclubs.org
Lions Clubs International is the world's largest service club organization with more than 1.3 million members in approximately 45,000 clubs in more than 200 countries and geographical areas around the world.
Lions Clubs International is the world's largest service club organization with more than 1.4 million members in approximately 46,000 clubs in more than 200 countries and geographical areas around the world.