We would like to say thanks to our community partners for their tremendous support in our efforts to raise funds for our community and for eye research!
A big thank you to Idlewilde Farms and the Irish Stepdancers from the Heavey-Quinn Academy of Irish Dance for their support for the Annual Acton Lions St Patrick's Day Lunch for the Council on Aging. The Lions fed 100 Acton senior citizens a scrumptious corned beef and cabbage dinner and the Stepdancers provided some incredible entertainment. Thanks to dancers Emily Losier, Bridget Griffin, Amelia Brown, Alyssa O'Keefe and Ella Doble for a wonderful job--they make every year special!
idylwildefarm.com at 366 Central St, Acton, MA
Acton Ace Hardware and South Acton Gas on Rt 27 in Acton; they both served as gracious partners as the Lions sold Christmas trees and wreaths.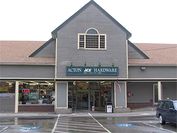 Thanks also to Dunkin Donuts at Acton Plaza (Rt 27 near Rt 2) for their tremendous support at our football food booth this fall and for so many years!! Go Colonials!
And finally, thanks also to the new home of the Acton Lions, Rapscallion Table and Tap - they have welcomed us with open arms and we are enjoying our great, new HQ!!
Being a Lion can bring you a closer connection to your town.
A town as successful as Acton requires the involvement of it's citizens. When we become parents and our children are young, the groups they are involved with require our participation. As they grow older, they need us less and we can look in the mirror and either pack-it-in or create new connects to our town and other people.
As a Lion, you float above many organizations and see the town in its entirety. As an active group supporting many charities and organizations, we get to meet the people who do things and help them. This work brings us closer to many people and provides a sense of accomplishment and connection. As President Jimmy Carter said, it is the closest thing he has done to elected service before he ran for office.
Acton Lions meet, conceive and hold fundraiser events and donate those funds to causes. 50% is donated to Massachusetts Eye Research and 50% stays local and goes to town, school or other charities and scholarships. May times we have events which are just service work like feeding our seniors on St. Patrick's Day, giving out turkeys before Thanksgiving or cleaning up Route 2A. The whole time we are smiling and having fun.
Acton Lions Club History
The Acton Lions Club, chartered in 1955, currently has 72 members who give their time freely to help those in need and the less fortunate. We meet each month for a 6:30 pm dinner meeting on the first and third Tuesday of the month at Rapscallion Table and Tap (5 Strawberry Hill Rd, Acton). An elected Board of Directors governs the Club, which meets monthly.
We are one of over 45,000 clubs that comprises Lions Clubs International, the largest service organization in the world with over 1.5 million members in 185 countries. Lions are known worldwide for eye research and their service to the blind.
Since 1955 the Acton Lions, now in their 60th year, have contributed over $550,000 to the Massachusetts Lions Eye Research Fund, which leads all Lions clubs in the State. The club has recently been recognized as being the #1 LIONS Club in the state (2008 – 2009).
In addition to eye research, the Acton Lions provide support to many local charitable organizations and community efforts. We also award five $1,500 scholarships to graduating ABRHS seniors each year.
Membership in the Acton Lions Club is open to all without regard to race, gender, religious beliefs or national origin. Click on the Lions Membership Application for more information about joining the Lions or contact any active club member.
2016-2017 Acton Lions Officers
62nd President: Tom Fredericks
1st Vice President: Dean Charter
2nd Vice President: Dan Busse
3rd Vice President: Peter Grant
Secretary: Louise Wojtkiewicz
Treasurer: Kevin Burns
Financial Secretary: Jim Dudziak
Tail Twister: vacant
Lion Tamer: Mickey McGurl
Program Chairperson: Darren Spangler
Bulletin Editor: Lee Daniel
Publicity Chairperson: vacant
Membership Chairperson: Joe Galletta; Committee members; Mickey McGurl, Joe Biggins
Directors
One Year: Two Year:
Kevin Louge TJ Dyer
Bill Ryan Cathy Griffin
Tom Sartini Steve Rubner
Lions Clubs International is the world's largest service club organization with more than 1.4 million members in approximately 46,000 clubs in more than 200 countries and geographical areas around the world.